1 General
JFD16 load switch is one of the new products researched and developed independently by JUCHE Group according to the market demand. JFD16 series products are in conformity with standards GB14048.3 Low-voltage switchgear and controlgear - Part 3:Switches, disconnectors, switch-
disconnectors and fuse-combination units, IEC60204 manual switch-disconnectors, the mechanical operation also is in accordance with requirements of standards.
2 Scope of application
JFD16 series products are applied circuit of AC 50Hz/60Hz, rated norking voltage up to 380V~440V and rated working current up to 25A~125A, it can be used to control the three-phase or three-phase four-wire main circuit or auxiliary circuit. It also can be used to disconnect the three-phase motor or
other load equipment during maintenance. It can use three locks at most in breaking position.
3 Model description

Description of auxiliary specification code
The first one: pole number: 1 is one-pole, 2 is two-pole, 3 is three-pole, 4 is four-pole, 5 is five-pole, 6 is six-pole
The second one: with or without additional contacts: 0 means without, 1 means with contacts of side installation
The third one: with or without neutral terminal: 0 means without, 1 means with
The fourth one: with or without earth terminal: 0 means without, 1 means with
The fifth one: installation category: 1. Panel installation; 2. Base installation; 3. Base installation with lengthened transmission bar
The sixth one: box type: 0 means without switch box; 1 means iron seal box of ingress protection IP40 (general use); 2 means iron seal box of ingress protection IP54 (for outdoor use); 3 means hot-moulding seal box of ingress protection IP65 (for outdoor use); 4 means stainless steel seal box of ingress protection IP65 (for outdoor use).
4 Working conditions
4.1 Ambient temperature Do Not exceed 40, and the average temperature ,measured over a period of 24 hours, Do Not exceed 35.
4.2 Ambient temperature Do Not less than -5
4.3 Should not be installed above 2000m above sea level.
4.4 The humility should not exceed 50% when the ambient temperature is 40 and higher humility is allowed for lower temperature.
5 Structure and features
5.1 Small volume, compact structure, stable performances, long service life.
5.2 Finger shield function, prevents from electric shock caused by contacting live parts accidentally.
5.3 This product possesses advanced new type motion mechanism, which guarantees high breaking and
making capacity of contacts. All contacts have self-cleaning function during the process of making and
breaking, and the long breaking distance of contacts sharply improves the reliability of switch.
5.4 Products of (3+N) three-phase four-wire (with auxiliary contacts, normal close) prevent electric shock
caused by electric leakage. This auxiliary closes in advance and breaks with lag, which guarantees safety for
load equipment and operators.
5.5 This series of products has both panel installation type and base installation type, the latter also contains
screw type installation and guide-rail installation of 35mm.
5.6 Universal joint connecting mechanism between the main body of lengthened transmission bar switch and knob handle has an eccentric distance5mm that surrounds the axle center as well as a regulating distance of 5mm in axial direction, which enables the base installation type has strong adaptability.
5.7 This product can be equipped with indoor or outdoor used insulated box, the box body contains general steel sheet type or stainless steel type that has strong corrosion resistance, and hot moulding type that has strong impact resistance. Ingress protection of the product is IP40~IP65.
6 Installation conditions
6.1 The switch should be installed in places where the class of pollution is 3;
6.2 The switch should be installed according to the operation instruction provided by our factory.
7 Technical parameters

8 Product codes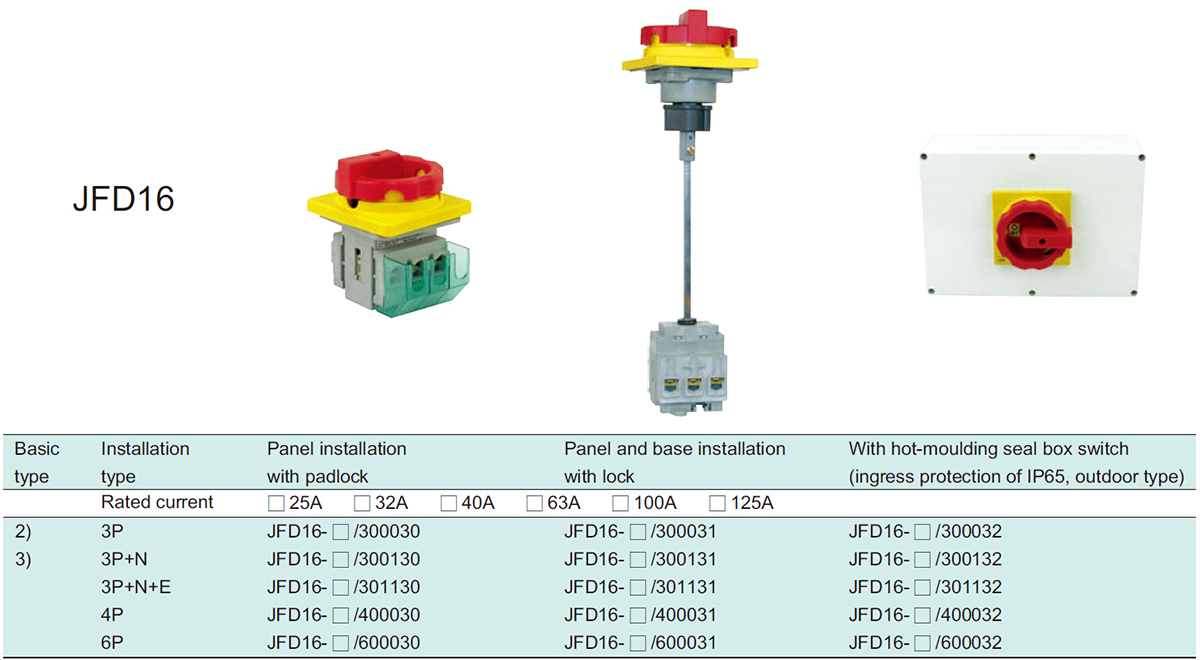 Note: 1) With adjustable aluminum shaft, max length of aluminum shaft is 400mm;
2) All this type of products has contacts;
3) P-pole number; N-neutral terminal; E-earth terminal;
4) All the above types can be equipped with accessories freely;
Additional contacts for side installation, additional contacts for top installation, shielding case, padlock handle, door interlocking base installation;
9 Outline and installation modes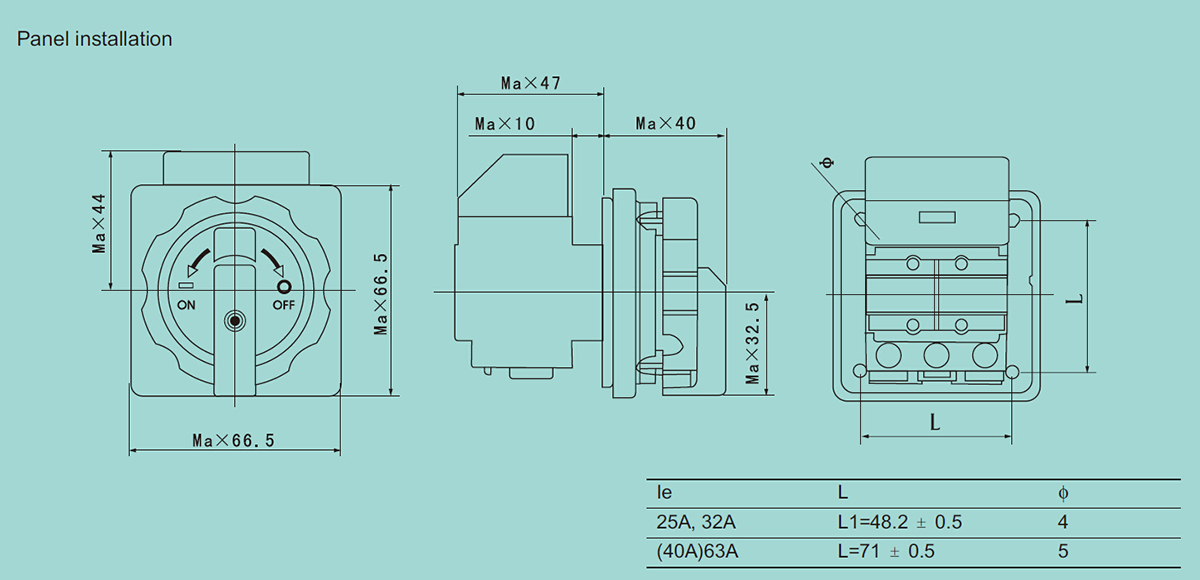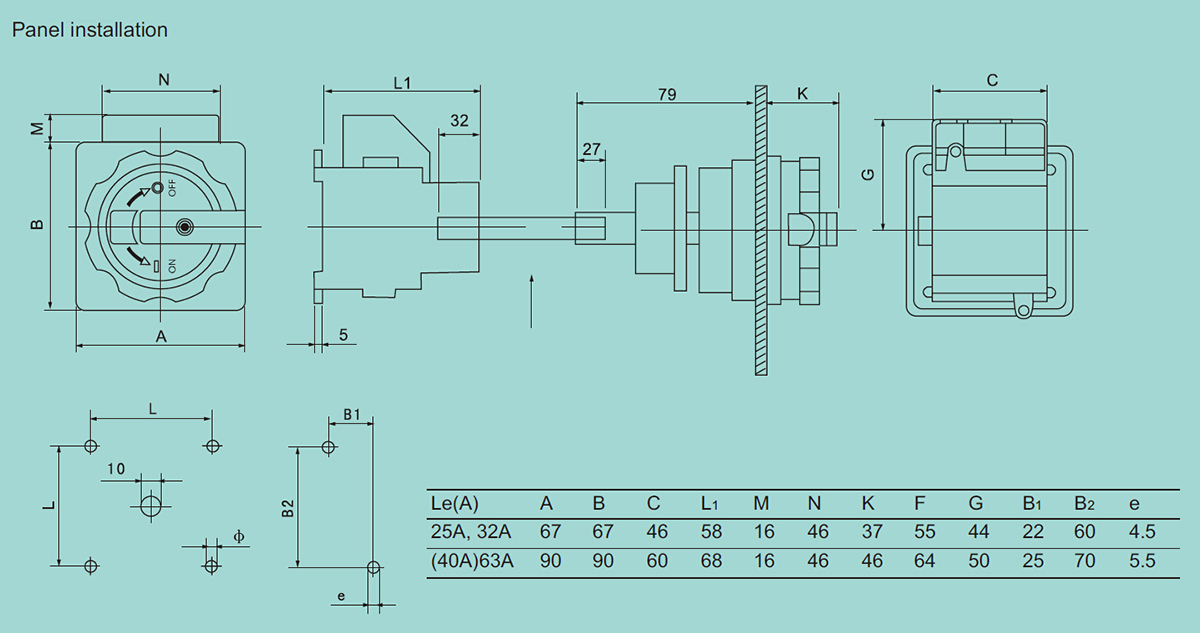 If you have any enquiry about quotation or cooperation,please feel free to email us at juche@juche.cn or use the following enquiry form. Our sales representative will contact you within 24 hours. Thank you for your interest in our products.
Subject:

*Name:

*E-mail:

Company Name:

Tel:

Fax:

Country:

Products:

Message: